As part of our initiative to support entrepreneurs, startups and business owners – we actively put on and seek out the best local events for entrepreneurs.
"You don't know what you don't know until you know it"
Events serve to educate and support entrepreneurs through their startup Journey.  Any experienced entrepreneur knows that it can often be a long and lonely road to success, this coupled with the need to perform roles outside of your area of expertise can lead to an overall daunting and difficult experience.
Coming along to events ensures that you are up to date with current trends across various industries, meeting people in similar circumstances and also taking advantage of opportunities that can go a long way to helping your business.
Join us at our next event and find out what it is all about.  Very rarely is it a waste of time, so if you haven't already RSVP to the next one!
Hope to see you there!
Equipping You & Your Startup to Succeed in Australasia
April 10 @ 11:00 am

-

2:15 pm
Related Events
Equipping You & Your Startup to Succeed in Australasia
More students are creating their own jobs through launching startups. So how can student founders make the most of their education? 
Join us as we explore the importance of balancing a multi-disciplinary education, lifelong learning and work experience to help students and early-stage startups succeed in Australia and Asia.
The panellists will discuss questions like:
How can you leverage your education to succeed in your startup?
How should further study, work integrated learning programs, or short courses help with building and succeeding in your startup?
Is education and work experience mutually exclusive?
How can you start to engage with Asia?
Speakers
Robert Hsiung – Managing Director for Udacity China
Eva Cheng – Deputy Director of Women in Engineering & IT and Senior Lecturer of the Faculty of Engineering and IT at UTS
James Alexander – Co-founder and Program Manager of INCUBATE
Jennifer Zanich (Moderator) – Head of Ecosystems & Partnerships UNSW
This event is part of the Visiting Entrepreneur Program, produced by the City of Sydney in collaboration with Event Partners Sydney School of Entrepreneurship, University of Technology Sydney, The Founders Program UNSW and Incubate.
Agenda
11:00am – Doors Open & Light Refreshment
12:00pm – Event Begins (Panel and Q&A)
1:45pm – Networking
2:15pm – Event Concludes
About Visiting Entrepreneur, Robert Hsiung

Robert Hsiung is the Managing Director for Udacity China. Prior to Udacity, Robert served C-level roles in multiple B/C round startup companies in the social networking, transportation, and education space, helping them to drive innovation, improve business metrics and raise capital. An entrepreneur with a foundation in strategic planning and business analytics, which has a proven ability and passion for building new businesses and high-performance teams, and attacking new markets. Robert has worked in over 15 different countries across the world and can adapt his management style to both Western and Asian cultures.
About Jennifer Zanich
Jennifer is a senior corporate executive and start-up CEO. She was a senior executive in Microsoft Asia Pacific which grew to $1B in revenue, and worked on MSN 1.0 in the Advanced Technology Team. Jennifer spent 10 years in Silicon Valley and was the founder & CEO of 5 companies, leading two to exits in Cyber Security and mobile messaging. Jennifer currently serves as head of Global Partnerships and Ecosystems, in the Department of Entrepreneurship, at the University of New South Wales, where she is raising a Fund to support UNSW Founder businesses.
About Eva Cheng
Eva Cheng is the Deputy Director of Women in Engineering and Information Technology, and Senior Lecturer in the School of Electrical and Data Engineering. She actively collaborates on social justice and community engagement in STEM diversity and humanitarian engineering, including working with Tech Girls are Superheroes, Girl Geek Academy, Laika Academy and Engineers Without Borders Australia. She is also engaged in cross-cultural and inclusive teaching and research, and developing global mobility experiential learning programs for students.
About James Alexander
James Alexander is on a mission to help more young Aussies become great entrepreneurs. James is the Co-founder and Program Manager of INCUBATE, now Australia's largest student accelerator program based at The University of Sydney. Through INCUBATE James has supported students to launch over 99 startups – creating innovations that include underwater robots to flying taxis – who have gone on to attract over $30 million in seed funding and create hundreds of jobs.
Map to the Venue:
https://sse.edu.au/wp-content/uploads/2018/01/SSE_Precinct-map.pdf
This program is supported by funding from the Australian Government's program for entrepreneurs and its national innovation and science agenda.
You may be photographed or videoed while attending this event: please approach the organiser if you have questions concerns, or do not wish this to happen.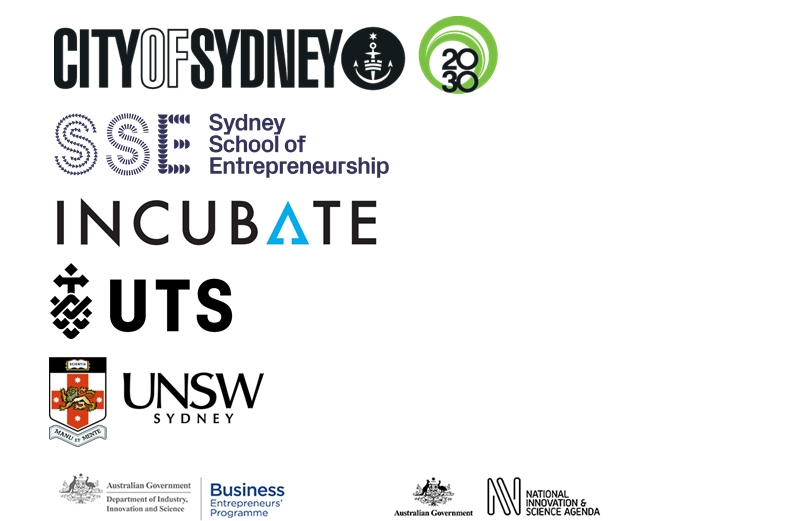 Related Events