As part of our initiative to support entrepreneurs, startups and business owners – we actively put on and seek out the best local events for entrepreneurs.
"You don't know what you don't know until you know it"
Events serve to educate and support entrepreneurs through their startup Journey. Any experienced entrepreneur knows that it can often be a long and lonely road to success, this coupled with the need to perform roles outside of your area of expertise can lead to an overall daunting and difficult experience.
Coming along to events ensures that you are up to date with current trends across various industries, meeting people in similar circumstances and also taking advantage of opportunities that can go a long way to helping your business.
Join us at our next event and find out what it is all about. Very rarely is it a waste of time, so if you haven't already RSVP to the next one!
Hope to see you there!
Emergence 2020 – Australasia's flagship investment conference
February 26, 2020 @ 9:00 am

-

February 28, 2020 @ 5:00 pm
Emergence 2020 powered by Wholesale Investor and CRIISP is Australasia's flagship conference for investment.
Founded with the vision to open more doors and avenues of opportunity for key participants in the emerging technology and innovation ecosystem, Emergence is aimed at fostering greater growth, trajectory and drive our Australasian ecosystem to the next level.
"Emergence 2020 will be our largest, greatest and most impactful flagship investment conference yet," Co-Founder and Managing Director, Steve Torso
AT EMERGENCE 2020 YOU WILL:
View over 40 investor presentations from leading emerging growth companies
Discover the latest investment trends and themes from Australasia's leading investors, deal makers and influencers
Meet and network with other investors who are proactive in the space
Learn more about investing in the high net-worth, venture capital, funds, family office and private equity space
Upskill and share best practice with the investors, investment groups and founders within our ecosystem
Understand the influences and ideas driving investment from VCs and family offices
Emergence 2020 by Wholesale Investor is the ultimate event to experience and share in entrepreneurship, innovation, investment and industry. Purchase your ticket today for the opportunity to create strategic alliances through workshops, networking, and resources.
Tickets can be purchased for select days or as a 3-day pass, simply click register to attend and tailor-make the ticket options that best suit your agenda.
Space is limited and we're tracking 350% larger than this time last year – get your Emergence ticket today!
Emergence sponsors align with our vision of opening more doors of opportunity:
If you're part of a company raising capital and want to find out more about presenting your investment at Emergence – Australasia's flagship investment conference, get in touch here.
Take a look at our Emergence Sponsors from 2019:
If you're interested in sponsorship for Emergence 2020- get in touch with us here.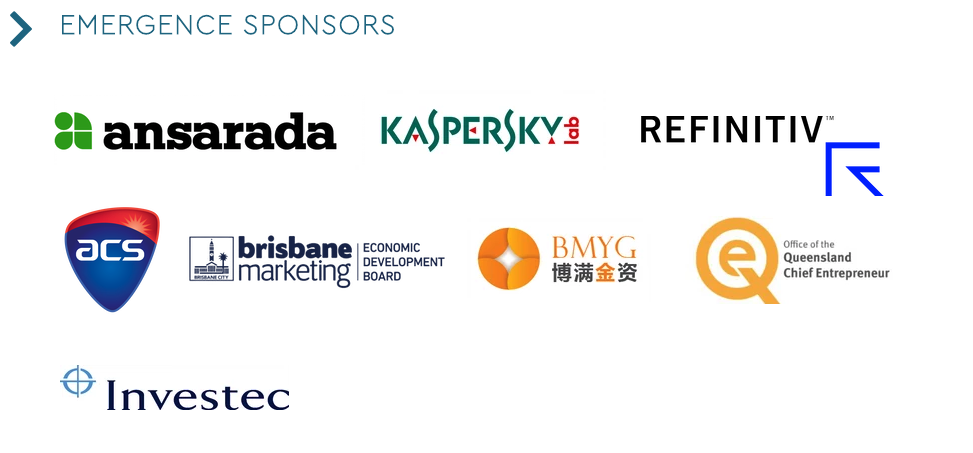 Emergence 2019 speakers included world-leading experts who have raised capital, invested in the most exciting deals and grown opportunities from scratch. If you're interested in speaking at Emergence 2020 – fill out this application form here.